€ 1.500,00
Inserzione numero 473506
inserita il 08/09/2019 alle 19:09:58

INFO UTENTE
fabio
PADOVA - ITALIA
Tel.:
3474866847
Utente da oltre
9
anni
Tutti gli annunci dell'utente
STRUMENTI
Condividi su Facebook
Segnala a un amico
Segnala allo staff
Consigli utili anti-truffa
RICERCHE CORRELATE
MTB - Full complete
Specialized
stumpjumper fsr
Testo annuncio:
taglia M
la bici e preticamente nuova non ha uno striscio comprata per la morosa che l'avra usata si e no 10 volte

TELAIOM5 hydroformed tubing, 29" geometry, tapered HT, PF30 BB, ISCG '05, Command Post routing, 142mm dropouts, sealed cartridge bearing pivots, replaceable derailleur hanger, 130mm travel
AMMORTIZZATORE POSTERIOREFOX/Specialized remote Brain with AUTOSAG, inertia valve w/Trail Tune, BrainFade adjust, 194x48mm
FORCELLAFOX TALAS CTD Evolution 29, air spring, tapered steerer, Climb, Trail, Descend settings and reb adj., 15mm thru-axle, 130/105mm travel
SERIE STERZO1-1/8 and 1-1/2" threadless, Campy style upper with 1-1/2" lower, cartridge bearings
ATTACCO MANUBRIOSpecialized XC Trail, 6061 alloy, 4-bolt, 6-degree rise, 31.8mm
MANUBRIOSpecialized XC Mini-Riser, 7050 butted alloy, 720mm wide, 10mm rise, 10-degree backsweep, 6-degree upsweep, 31.8mm
MANOPOLESpecialized Sip Grip, half-waffle aramid-infused, S/M: Regular, Others: XL thickness
FRENO ANTERIORECustom Avid Elixir 5 SL, hydraulic disc, alloy backed organic pads, HS-1 rotor. S/M: 180mm; L/XL 200mm rotor
FRENO POSTERIORECustom Avid Elixir 5 SL, hydraulic disc, alloy backed organic pads, HS-1 rotor. S/M: 160mm; L/XL 180mm rotor
LEVE FRENOCustom Avid Elixir 5 R SL, tool-less reach adj.
DERAGLIATORE ANTERIORESRAM X7, 10-speed, S3 direct mount for DMD, bottom pull
CAMBIO POSTERIOREShimano XTR Shadow Plus, 10-speed, SGS long cage
COMANDIShimano SLX 10-speed, trigger
CASSETTASRAM PG-1050, 10-speed, 11-36
CATENAKMC X10, nickel plate, reusable Missing Link
GUARNITURACustom SRAM carbon S-2200, 10-speed XC Trail double w/ carbon guard, PF30 spindle, removable spider, S: 170mm, Others: 175mm
INGRANAGGI36/22, w/ carbon guard
MOVIMENTO CENTRALESRAM PF30, OS press-in bearing, sealed cartridge
PEDALIResin Test Ride Pedals with toe clips, CEN std.
CERCHIRoval 29, alloy disc, 26mm wide, 32h
MOZZO ANTERIORESpecialized Hi Lo disc, sealed cartridge bearing, 15mm thru-axle, 32h
MOZZO POSTERIORENew Specialized disc, 4x-sealed cartridge bearing, 12mm thru-axle, 32h
RAGGIDT Industry, 2.0 stainless
PNEUMATICO ANTERIORESpecialized Purgatory Control, 2Bliss Ready, 60TPI, aramid bead, dual-compound, 29x2.3"
PNEUMATICO POSTERIORESpecialized Ground Control, 2Bliss Ready, 60TPI, aramid bead, 29x2.3"
CAMEREUltralight presta
SELLABody Geometry Henge Comp, hollow Cr-Mo rails, 143mm
REGGISELLASpecialized Command Post BlackLite, 3 position, adjustable height w/air spring, remote operated, single bolt head 30.9mm, S:100mm travel, Others: 125mm travel
COLLARINOCommand Post 34.9mm clamp, 7050 hard anodized alloy collar, single bolt
NOTEProtective clear coat, Specialized Dangler chain management radness, derailleur hanger, reflectors, owners manual, Mylar DT protector

---
ALTRE FOTO DEL PRODOTTO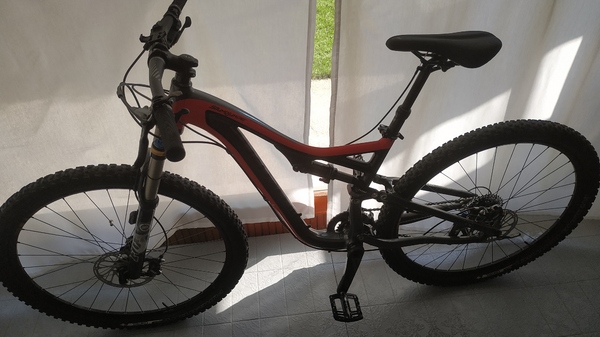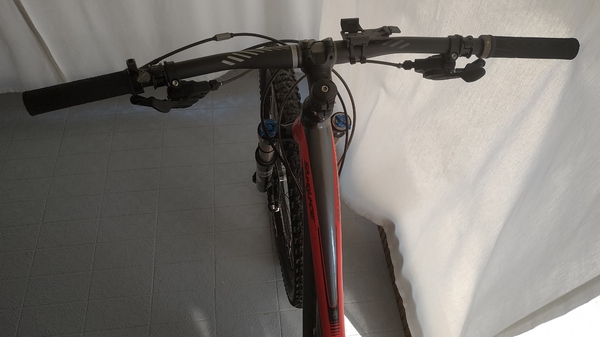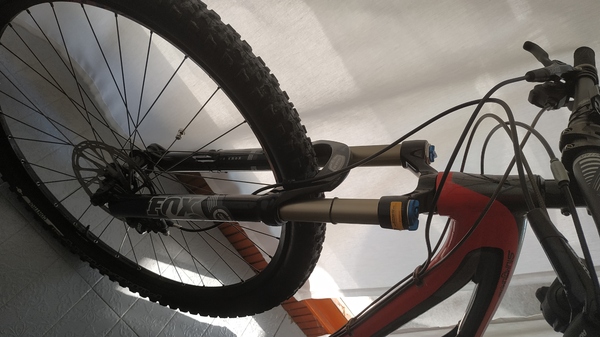 Le immagini sono state indicate dall'utente che ha inserito l'annuncio e potrebbero
non corrispondere al prodotto oggetto dell'annuncio.

---
ANNUNCI CORRELATI
Ecco altri 6 annunci che potrebbero interessarti...

€ 800,00
privato vende
usato

€ 750,00
privato vende
usato

€ 1.000,00
privato vende
usato

€ 2.600,00
vetrina vende
usato
Ciclomania
Voghera


€ 2.500,00
privato vende
usato
---